October 08, 2004
tashabear, and tonight's contest
tashabear
from the knitting community i read on livejournal was called back to active duty recently. it's unfortunate, because she's a newlywed (and what a wedding it was! the pictures she posted were beautiful). however, she said something fantastic in a post to the knitting community today.
"I don't want to debate the pros and cons of this war, as honestly, it doesn't really matter if I agree or not. For me, it's about people, and my job as a transporter is getting people the things they need to stay alive."
whether or not i agree with the war, i think she has absolutely the right idea about it all. and whether or not i agree with the "powers that be", i support our soldiers 100%. i know tasha doesnt read this, but, i wish her best of luck.
now,
onto the contest!
i know it's thursday night, but i'm officially posting the first of my friday contests for the month of october. as previously stated, i'm giving away this: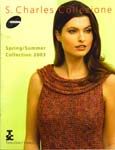 and a novelty yarn that's to-be-determined.
now that you know the prize, it's time for the rules!
in order to enter, you need to send me an
email
(please do not leave your entry in the comments) containing an autumn recipe. it can be for a breakfast, lunch, dinner or desert. ANYTHING you please. only requirement is it has to be... well, fall-like. you know what i mean. hardy pasta dishes, squash, soups and stews, biscuits, pies... anything that feels like a warm blanket wrapping around your shoulders on a breezy night.
you can enter as many times as you want, just make sure you send separate entries in separate
emails
. the winner will be determined on monday, and will be posted before midnight and notified via email. a winner will be chosen at random, using my ULTRA scientific method of numbering the emails 1-# based on the order they come in, then drawing a number out of a hat.
good luck! and... enjoy your weekend :)