January 29, 2006
the blahs...
ever have one of those days where its just crud? its not a BAD day, there's no events that happened to particularly sour it. in fact, i had a fantastic weekend and today was my 'relax at home' day. but it just felt like crud. its only 8:30 and i feel like crawling into bed now and sleeping till next weekend. but if i do, it just means i'll wake up at 5am, feeling worse, and fall back asleep around 7 just in time to sleep through my alarm and end up late for work.

gee, that was oddly specific. not like thats ever HAPPENED to me before... hah.

i'm off to attempt to finish the sleeve on one of my ancient WIPs: a red heart minisweater.

no mocking the acrylic! i wanted this as a work-horse washable sweater, where i didnt care if i messed it all up. something simple to toss on in the spring so i can start wearing my tank-tops earlier. and i found just the right gague where it actually drapes pretty well.

someone, cheer me up. please?

January 23, 2006
...The only reported election glitch occurred in Eastern Canada. At a polling station in New Glasgow, N.S., a man took off with a ballot box.

Just after noon, the man ran into a polling station in the town's stadium and tried to grab two boxes. An election official snatched one, but the man made it out with the other one under his arm.

"The suspect actually went to the parking area, placed the box down on the ground and actually used his own personal vehicle [and] drove over the Elections Canada box," said Const. Ken MacDonald of New Glasgow police.

The man sped away. However, officers picked him a little while later.

Although the box was flattened, no ballots were destroyed. Scrutineers watched as the deputy returning officer transferred all of the ballots into a new box.

from
CBC.com
is it just me, or are you all CRAZY? (gosh i hope so, as i may end up living there some day!)
...knitting stuff to resume after much sleep.
January 22, 2006
listening post
i'm having two listening issues that i'm hoping you folks can help me with.

a. i got a beautiful pink Creative Zen Micro mp3 player for christmas. i LOVE it. but i hate the headphones that came with it. they wont stay in my ears, and the little foam things are useless and constantly falling off. what's your favorite ear-bud style headphones? i need new ones!

b. podcasts HATE me. i thought i fully downloaded tons of them... knitcast, knitting news, etc. however, when i go to play them on the above mentioned mp3 player i get about 3 or 4 minutes in, then they cut off. has this happened to anyone else? should i just try re-downloading them?

January 16, 2006
ever sat at home thinking of good names for a blog post?
i just spent the last ten minutes doing that, before i realized... fuck it, just start writing.
i've been a fool... i've joined a few -alongs that i SHOULD not have... but i'm doin' it anyway! jaywalker? i couldnt resist. the ABC-along? well, you already saw letter A, so my guilt is written all over my face. last but not least, i've joined
stephanie's
olympic challenge. what, am i MAD???
i've decided that for the olympics, i'm going to participate in two events. my favorite, pairs figure skating (
socks!
) will be my easy, on-the-go work. i'll be saving the triathalon (is there one of those in the winter olympics?!?) of conceptualize - design - knit for home, when i can focus more on the event at hand. hey, thats not to say figure skating isnt tough... they just make it look so darn easy!
so in layman's terms, i'm pledging to cast on AND complete, in the span of the winter olympics, one pair of socks and one self-designed sweater. am i nuts? c'mon STEPHANIE's making a Dale sweater in 16 days. who does she think she is,
wendy?
oh, and work... its CRAZY. who wants to take bets on how long it takes me to crack?
stay tuned for a
CONTEST
on friday. tell your friends!
January 10, 2006
totaly normal, right?
when i saw that
dani
had received her
SP7
match... i immediatly started checking my email. every 5 minutes. c'mon c'mon!
edit: its 4am EST. i dont know what time zone
our lovely hostess
is in... (i know there's more than one host, she's just the one who emailed me to say matches were coming soon) but i'm pretty sure its not happening tonight. wanna bet i'm checking my email again before work tomorrow? and maybe just once more after i post this... just incase...
*
one of my unofficial resolutions is to make my posts more interesting... for example including LINKS to the people and things i reference. i'm usually just too lazy to do my 'research'... but i'm doing better, right?
*
January 08, 2006
A is for... apology.
i have officially joined the ABC-along (however, my sidebar doesnt recognize that... YET) and have been tardy with my FIRST post... this doesnt bode well. well... here, let me try to make it up to you. i'm sorry for the image sizes, i dont have any resizing software on my computer any more. anyone want to donate some?
A is for...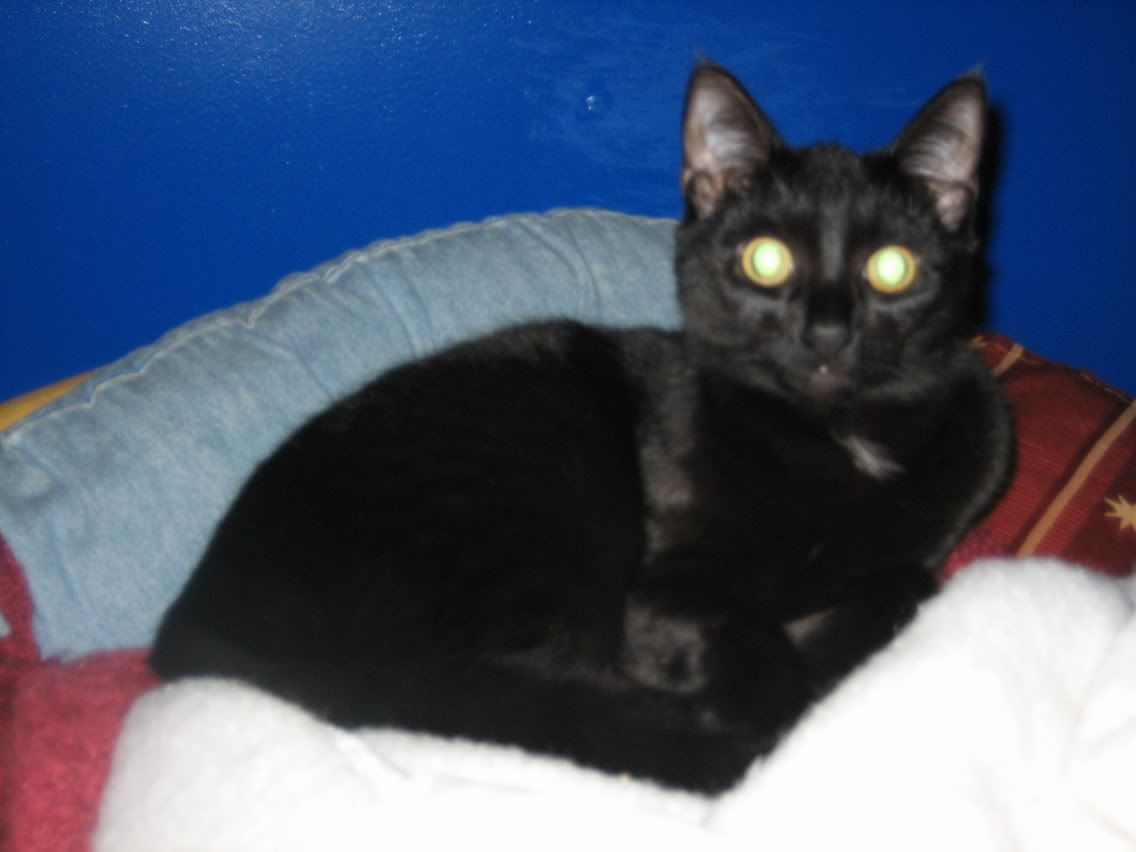 asher! my sweet little monster. he's commonly refered to as the asshole, jerkwad, butt-face, etc. the only reason he's still cute is most of his damage done is because he just too dumb to know better. that memo about cats landing on their feet? he never got it.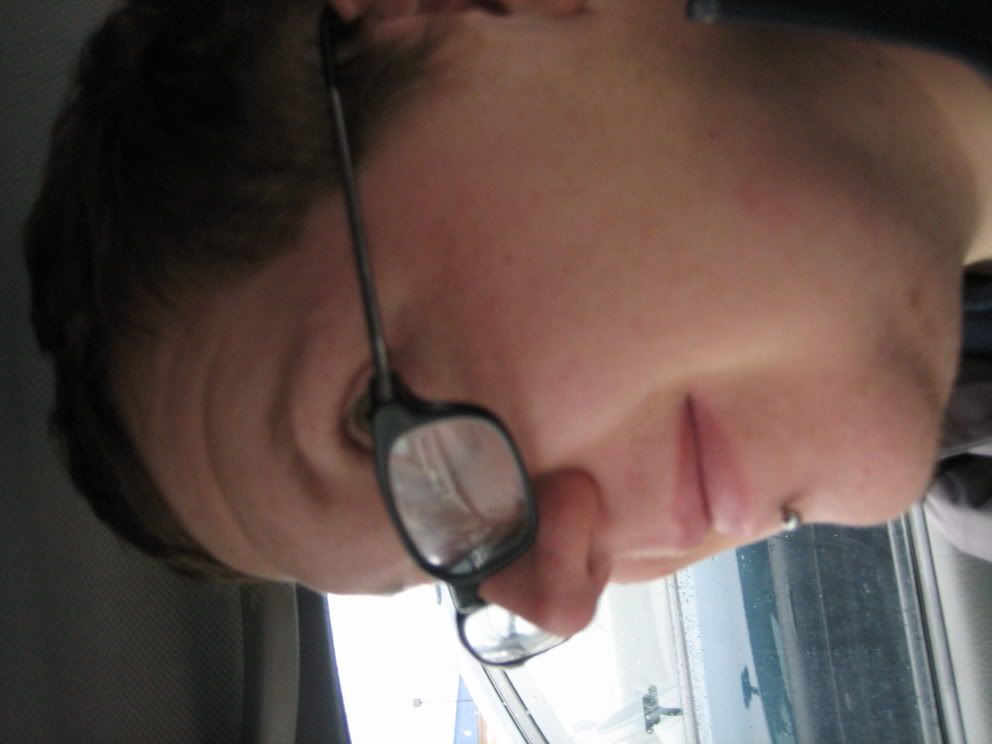 adam! my other sweet not-so-little monster. pirate-obsessed, big muscled, bespeckled hunk of a man ;) sorry ladies, he's taken.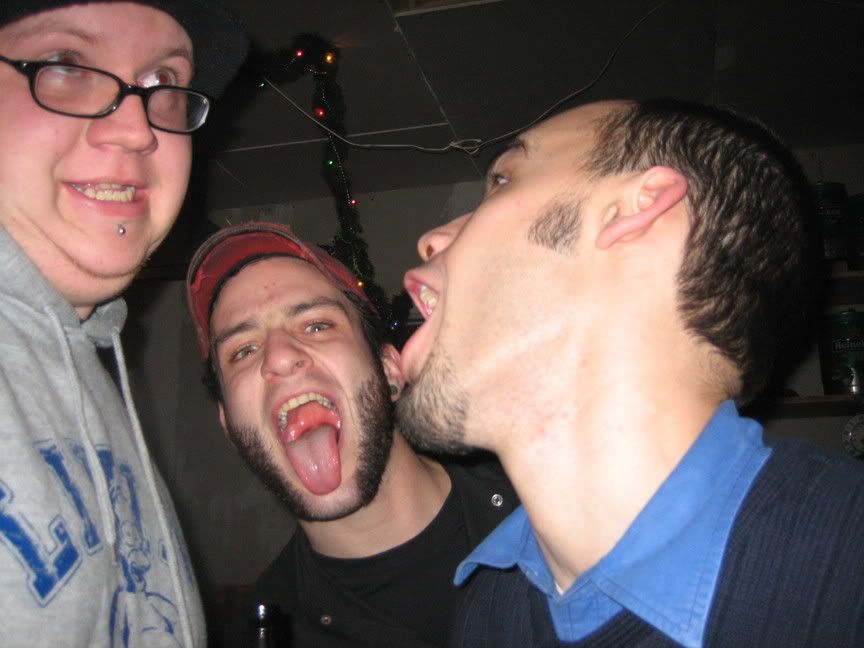 another fantastic new years party! this new year was ALMOST ruined by some stupid drama... but we rose above, headed to a better party, and had a total blast with some of our favorite people.
last but not least, my two loves, artichokes and asparagus! i may not dig spinach, but i love my greens.
ok hopefully i'll be on time for the REST of the alphabet!
Secret Pal 7 official q's
its here! it's really here!!
ok so perhaps that's undue excitement for what i'm about to post... but there's nothing i like better than the start of a new secret pal cycle. so without further ado, i present my OFFICIAL secret pal 7 questionaire... which shall be memorialized in a link on my sidebar. as soon as i remember how to. (any particularly blogger-savy folks want to help me make my blog look better? i could REALLY use the help.)
disclaimer: my answers do tend to vary between these quizzes... one may say a favorite scent is pine, while another says jasmine. it's all true, just... different things are first on my mind on different days. its mutually inclusive, not exclusive.)
1. Are you a yarn snob (do you prefer higher quality and/or natural fibers)? Do you avoid Red Heart and Lion Brand?
they have their place... such as using caron's softer yarns for kids mittens and stuff. but in general... i'm totaly a yarn snob. what can i say, i'm a touch-oriented person, and generally acrylics just dont measure up to the touch test.
2. Do you spin? Crochet?
spin - not yet. crochet - not often. usually only for edging or other things to accent knitting. although i've seen some really cool crochet toys coming out of japan... i need patterns for that stuff, cant get that around here :)
3. What do you use to store your needles/hooks in?
what, you think i'm organized? i have a random pencil case my brother brought me from japan that i TRY to keep my sock dpn's in, and some of my nicer straight needles are in a vase... but there's no real system yet.
4. How long have you been knitting? Would you consider your skill level to be beginner, intermediate or advanced?
i consider myself an adventurous intermediate. i've DONE just about everything, and i'm not affraid of any technique any more... i just havent mastered anything yet.
5. Do you have an Amazon or other online wish list?
indeed i do, my amazon wishlist can be found under the email address brokedown_tiger@yahoo.com. i know i have other wishlists, but i've forgotten where...
6. What's your favorite scent? (for candles, bath products etc.)
exotic florals (plumeria, freesia), citrus and fruits, and nature scents (pine, apple, cinnamon). i dont like things that are too strongly perfumy or have a soap-like scent. but i LOVE all things smelly :)
7. Do you have a sweet tooth? Favorite candy?
yes yes yes. if willy wonka had kids, i'd be putting them through college. gobstoppers and bottlecaps to be specific. my favorite chocolate is the lindt 70% cocoa bar. if you like dark chocolate, run out and try that now! i have a salty tooth right next to my sweet tooth too... pistachios and popcorn make me happy :)
8. What other crafts or Do-It-Yourself things do you like to do?
i've always wanted to get into those ArtBooks i've caught glimpses of every now and then. i love working with paper... writing, collage, etc. i dabble in glass etching, 3-D junk art, and beading.
9. What kind of music do you like? Can your computer/stereo play MP3s? (if your buddy wants to make you a CD)
indeed, i am mp3 ready. especially now that i have my cute little CreativeZen mp3 player! i'm always searching for new and interesting music, so surprise me! i listen to everything from fiona apple to local hardcore, from sigur ros to nine inch nails, from enya to pantera.
10. What's your favorite color? Or--do you have a color family/season/palette you prefer? Any colors you just can't stand?
for some reason, i'm very anti-navy blue. other than that... i just love COLOR. deep, rich, interesting color that looks like it has a story to tell. vibrant pinks and purples, rich greens and heathered browns... i'm a big fan of color in general. thats why i need to get into dying my own fiber...! i have so many ideas about color combinations i want to see... noro has come closest to my color ideals in yarn. my current love affair is with silk garden 87, but i'm also seeing some kochoran on the side.
11. What is your family situation? Do you have any pets?
i live on my own, downstairs from my grandma. but as this is her second house, i'm here by myself most of the time (+ one boyfriend playing video games in the living room). i live around the corner from my parents, though. and while i have 2 cats myself, i frequently help them take care of their 3 cats and 1 dog.
12. Do you wear scarves, hats, mittens or ponchos?
yes, yes, yes, no. i'm dying to make myself some thrummed mittens one of these days.
13. What is/are your favorite yarn/s to knit with?
noro. noro noro noro. kochoran and silk garden to be specific. the texture and the color combined is exactly what i'd make for myself if i had the capabilities. i like to think that my favorite yarns are the ones i havent knit with yet, though. i'm dying to try things like cherry tree, brooks, all the yarns that you cant just go down to your lys and snatch up a handful of.
14. What fibers do you absolutely *not* like?
i used to think it was 100% rough wools, but after making a few projects with them, i see they definatly have their time and place. still not my every day cup of tea though. oh, and keep those sparkly eyelashes and ladders away from me.
15. What is/are your current knitting obsession/s?
socks, they were my last hurdle to really consider myself a Knitter with a big K. i'm really interested in the moebius and 'magical' knitting stuff, too.
16. What is/are your favorite item/s to knit?
toys for children. i got a glimps of a knitted toy book at borders once, and now i'm constantly designing little trinkets and fuzzy toys in my head. i'd love to get more than a glimpse at some of those books though, anyone have any favorites? i've been dying to make a bobbi bear, too. its so CUTE!
17. What are you knitting right now?
alpaca socks for myself, a 'pirate' sweater for my boy, a viking hat for his dad, very tall socks for myself, my 4th clapotis, and a silk garden hat.
18. Do you like to receive handmade gifts?
very much. socks in particular, especially after reading the Yarn Harlot's chapter on why socks are the best gift ever. if you havent read it yet, go get it now!
19. Do you prefer straight or circular needles?
it was circular needles for a while, when everything i did was seamless, in the round, the easiest way possible. now that i'm learning the merrits of proper construction, i'm starting to invest in pretty, high quality straights and they've earned a place in my heart (and my knitting bag).
20. Bamboo, aluminum, plastic?
bamboo! and other hard woods. i got to use a pair of lantern moon straights once, heaven! i've never tried cassein needles though, it strikes me as kind of funny that you can knit with milk.
21. Do you own a yarn winder and/or swift?
no! and i've been dropping hints with my family for EVER but they're just not getting it. perhaps i'll just have to buy them myself and tell the boy to give them to me for my birthday or something, hah.
22. How did you learn to knit?
the ever-present internet. step by step pics on a website... which i later found had stolen the pics from the readers digest book. no link, because the site's now gone.
23. How old is your oldest UFO?
as old as my knitting habbit is... my very first project, the reason i LEARNED to knit... that poor hogwarts scarf.
24. What is your favorite animated character or a favorite animal/bird?
i love tigers. LOVE them. all cats, actually. animated character would have to be cosmo and wanda from the fairly odd parents!
25. What is your favorite holiday?
beltane... i love the way life is celebrated and honored. thats when i truly feel like i'm getting a new start on the year, a new beginning.
26. Is there anything that you collect?
i'm working on adding more vintage accents to my apartment. my great aunt gave me some old hair setting tools still in the packaging that i'm framing and putting up in my bathroom. i'm also a huge fan of interesting and squishy stuffed animals and pillows. i also collect Lord Of The Rings artwork, statues, and jewelry.
27. What knitting magazine subscriptions do you have?
interweave knits. i dont like EVERY issue of VK so i save that one to peruse before i buy, but there's always something in IK for me. i havent been able to afford a Rowan subscription yet, but that's next on the list.
28. Any books, yarns, needles or patterns out there you are dying to get your hands on?
i saw a book once... it was a black cover... with socks for clogs. what BEAUTIFUL stuff. i would also love to have more books on norwegian and latvian knitting, cat bordhi's books, and the world of knitted toys book. oh, and the bobbi bear!
29. Are there any new techniques you'd like to learn?
i would like to learn a lot more about colorwork, and eventually tackle a norwegian sweater. i still havent done any moebius work, either. i desperatly need someone to teach me how to spin one-on-one, i just cant seem to grasp it from books and websites. i used to spin on a wheel when i was a kid with one of my friend's moms, but its been years.
30. Are you a sock knitter? What are your foot measurements?
as of recently, that's a resounding yes! i have a very wide ankle, at about 10 1/2 inches. the ball of my foot and the toe to heel measurement are both an even 10, and i like nice snug socks. i've learned through trial and error that socks for me have to be either a low cuff (like a running sock) or knee high in order to be comfortable.
31. When is your birthday? (mm/dd)
july 29th
if you've made it this far, thanks for reading :) i cant wait to get started spoiling my secret pal!
January 06, 2006
belated new years goals
i've been reluctant to make new years goals... because i'm pretty sure that spells disaster. but i'm going to give it a shot! i have only three, so they SHOULD be attainable.

1. submit at least 3 designs to knitty or mag knits
2. knit at least 3 sweaters by christmas, that gives me almost 4 months each
3. ... i forgot number three already. figures, dont it. i'll come back to it later

in other news, i've also joined the ABC-along. i'm hoping this will inspire me to make this a more pic-based blog. cause you know the better the pics, the more likely people are to stop and look :)

January 04, 2006
Wednesdays are for blogging!
thats not to say that i wont post on other days, too, but i've promised myself that wednesdays are GUARANTEED to be a blog-day.
a few highlights you may have missed lately:
* i actually made it, i KNIT presents for everyone on my list this year! i finally got realistic and decided that 5 sweaters, 7 scarves, and 4 pairs of lace socks wasnt going to happen. but 16 pairs of fuzzy feet COULD happen, and it did! (it helps being out of work for over a month.) pics... some day.
* i'm in a serious sock-fit right now. i havent bought a pair of needles over size 3 in ages, its all toothpicks all the time 'round here.
* next week it'll be 6 months with the man in my life... and i hope to keep him right there where he belongs. (next to me, that is.) pics and info also to come.
now, as a little way to kickstart my blogging, a quick survey for the upcoming SP7, as stolen from
the boogie blog
:
What are your favorite fibers?
wool, alpaca, angora, silk... anything SOFT. i pick by sticking my hand deep into something and wiggling around. if there's ANY itch... its out. frog tree alpaca's currently the top of my list.
What fibers would end up sitting in your stash until you cleaned house and then be gifted to someone else?
novelties. sure, there's a time and a place for eyelash, ladder, etc. but not in MY knittng.
Favorite brands?
noro, cascade, noro, frog tree, noro, artyarns, noro, lavold, did i mention i <3 noro?
Brands you wouldn't touch if they were the last fibers on earth?
i can find something i like in almost any brand... but i think me and debbie bliss dont get along too well for some reason.
Name a brand or fiber that you've never tried but are dying to try.
any hand-spun or hand-paints i havent had the pleasure of meeting yet. i want to try all the knitter-made products floating around cyberspace, the ones i cant get my hands on at my local LYS. oh, lorna's laces is #1 though. i've never even TOUCHED anything lorna's... sigh.
Favorite colors?
forest tones... greens, browns. and vivid colors. rich garnet, violent pink, raging purple.
Least favorite?
navy blue. cant stand it.
What range of yarn weights do you prefer?
sock weight & worsted. bulky's have their place though... i'm not one to discriminate.
What are your favorite needles?
again, things i havent had access to yet intrigue me. lantern moon? inox? crystal palace? never even seen them in person! tangibly though, i've fallen in love with clover needles. i think i like the join on the bamboo ones better than the addi naturals.
Any yarn/fiber allergies? Any other allergies your pal should know about?
none at all. except a knee-jerk nausea reaction to scratchy synthetics.
What's your favorite thing to knit?
i'm in love with socks at the moment. but my long term love affair is with well-designed shapely sweaters.
What are you knitting now?
everything. at least 3 pairs of socks, a flower basket shawl, a boogie vest, a rosedale (still dont know if it'll be united or not, i'm on the sleeves), a few hats...
Do you spin? If yes, do you use a spindle or a wheel? Do you have the tools to process locks or do you only work with prepared fiber?
i have only two words for all of that: not
yet
.
Are you involved in any other crafts?
i want to learn pottery eventually, along with metal working. currently, i do a lot of work with mixed media junk art, and word-art. (like writing, but more fun.)
Do you celebrate any specific winter holidays?
christmas and solstice. (though i dont think this is relevant for the sp, but i may as well answer.)
Name your #1 style icon, dead or alive. What is it about him or her that attracts you?
all those nameless girls in the WWII pin-ups. how hot!
Name something that you want, but just can't get where you live.
i'm intrigued by ANYTHING that i cant get here... which is, truly, a huge list. i just love far-away toys in general.
What is your preferred knitting soundtrack?
law & order: SVU, las vegas, lost, House... i have a Prime Time Problem.
Who are your favorite knitting designers?
i'm always inspired by
knitty
. if i had to pick one, though, it would be the Lady of Glampyre.
Describe your vision of the perfect knitting publication -- the target audience, the cover, the type of designs featured, etc.
something featuring a lot of well-tailored knits of ALL sizes, with sophisticated color work and texture with a modern-but-still-classic feel. aimed at the 20-50 set... no leg warmers, kitschy fun-fur accessories... just fun, interesting knitting.
Do you have an Amazon Wish List (or other on-line gift registry)?
yes indeed. its listed under my brokedown_tiger@yahoo.com email
Favorite scents?
winter stuff, like spruce and pine, apples and cinnamon. and fresh spring-y scents, like jasmine, citrus, plumeria, lemongrass...
Do you enjoy candles? Bath products? Incense?
with all my heart. i love smelly stinky stuff.
Do you have a sweet tooth?
sort of. while i cant get enough of wonka products like gobstoppers and bottlecaps (both in front of me as we speak) i have a serious salty tooth too. pistachios... my dear sweet pistachios. (oh, and have you ever had lindt's 70% cocoa chocolate bar? i dont say this lightly... MY FAVORITE CHOCOLATE EVER.)
Coffee, tea or no caffeine, please?
caffeine in soda form... dr. pepper specifically. i love the dr, we're very close. on a first name basis even. stan and i have been together a long time now.
i also lovelovelove tea. i have a modest rack of different herbals, red teas, flavored greens... anything but black, really. adagio has some really cool stuff.
Do you collect anything?
the only intentional collection is other people's art. my little cousins have all drawn pictures that are up on my wall, and a few friends have contributed paintings, photographs, and the likes. thats my prefered method of decorating my apartment. i also have a growing collection of interesting OVERSIZED mugs, they're so comforting and pretty at the same time. unusual, small, toys seem to have found their way into my life too. mini rubber duckies, "ugly monster" keychains... etc. i have a tiny stuffed penguin sitting on my computer :)
Describe a perfect day, from the moment you wake up until you hit the sheets.
the brief version, a homemade waffle and bacon breakfast, snuggle time with the boy, knitting time with some TV, play time with all the little cousins & my parents dog, a big dinner with everyone at my folks place, and collapsing on the couch with Pop Secret Movie Butter popcorn and an excelent movie at the end of the day... everyone's feet wrapped in super-warm fuzzy feet.
Anything else your pal should know about you? Is there anything left?
anything that wasnt answered here... i'd be happy to answer if you can THINK of anyting else. i'm also going to work on my 101 things about me list, so that should be a bit more helpful too.